This post constitutes a challenge to
the 2014 report
<- Return to Main Challenge Space
Challenge brought July 21
last edits July 28
--
I'll bring the first challenge myself, by urging myself to take a second look at one last-minute addition to the report that was a little speculative to start, and was then complicated by some even more last-minute information I wasn't up to making revisions over. This is to be reviewed, I figured, so why not leave this spot ready for an early revisitation?
From page 34:
Clocktower Family Massacred?
A German-language map ACLOS cited early on says this small block of buildings includes the home of a family Abbara. [18] This is based on ANNA News and "the Defector" who said "the house on the northern corner of the square belongs to the family Abbara." [11] It's not clear to what extent this corner was the family's house vs. the Army's base.

FSA fighter Akrima Bakour told the BBC one Mohammad Abbara along with "his daughter Amina and her family of seven" were "killed in the massacre" [15] The Opposition VDC may reflect this, but differently. Only two victims of that name appear as killed in Houla that day, both adult men killed by "shelling." The younger is Ammar, age 23. [19] There is one Amina listed at the VDC (as "Amna" - a typo) - Amina Shafeeq Abdul Razaq, age 43, executed. She was "married and has 5 children," a note shared by several other female victims there, but only one male: Mohammad Shafiq Abbara, age 27. The shared Shafiq suggests brother, usually, not husband. But wasn't he Amina's father? Bakour put the Shafiq on another guy listed with them - Mohammad Shafiq Abdul Razaq.

There are also an unclaimed batch of four boys named Al-Sweiee, and given with "mother's name: Amama" (There is a female name Amima, but like Amna, Amama is not a known (common) name) [19] It's possible this somehow correlates to the same family of seven, obscured with this confusing record. Otherwise, perhaps they didn't get this one fully reported, but is seems connected to both this spot and that family.

There's some talk of an Abdulrazaq family killed in the north of town; "the Defector" said "the second family, who was killed by the bandits, lived [partly] in the northwest. Even there, the family Abdul Rasak has a house." [7] Maybe it wasn't in the northwest of town they lived, but on the northeast corner of that center of town, well north of the other Abdulrazaqs.

So there is compelling – if little-noted - evidence that a family basically living at a security post rebels overran was massacred on that day. They probably would not have been rounded up and eliminated during the mid-day distraction, but after 7:00, the time Arifah specifies the event even the CoI acknowledges with "the clocktower checkpoint was overrun."
Re-Considered:
The
2014 list
adds a name missing before: #21 Omamah Abed al-Rahman Abed Al-razaq,32 years old," the mother in the "Bassam Khaled Al-Sweeai family." This is convincing-sounding detail, but the trustworthiness of this list too is in question. For one thing, the four boys became three here, as if to make room for the new mom, but that could mean nothing.
By this list, #41 Amina Shafiq is instead attached to the family of
Mouhamed Refiq
Abed Al-razaq - lacking the usual maiden name for married-in wives - perhaps a sign of something amiss. By this, she was killed alongside only her daughter Bayan Mouhamed Refiq Abed Al-razaq, age 14 (otherwise just Bayan Mohammed, close enough). Amina's husband apparently survived, unlike victim #99
Mouhammed Shafiq
Abbara, who died alongside no family members at all. Both wound up seeming lonely like that - another possible sign they've been forcibly split up.
Considering, then: Akrama Bakour's "Mohammed Shafiq Abdulrazaq" - oddly listed right before "Mohammad Abbara and his daughter Amina" - would presumably be the husband M.
Refiq,
just named a bit wrong. But here, he didn't implicitly survive, but rather he explicitly died. And he then appeared on no lists ... unless it's
as
M.S. Abbara... (listed twice then by Akrama, unless there really were two Mohammeds, one actually being her father ...)
So there are two different ways the Al-Sweiee boys might connect to the Abdulrazaqs via their mother. One I guessed, the other is provided by the new list. It's possible neither is right, but one likely is.
Any link to the Abbaras remains speculative, built into my guess link for the Sweiee boys. But supporting it we have Bakour's Abbara-related "family of 7" with its implications of such a relation; at the verty least, consider that listing excludes the Al-Sayeds, and so seems to focus on the Abdulrazaqs and their relations exclusively. The surrounding name suggestions, and otherwise unexplained "family of 7" all further suggest that was a pretty good guess.
If there were a relation here, the killing that day of any of any Abbaras - by "shelling" or whatever - was most likely a planned part of the same targeted operation against the families down Saad Street. It seems Abbaras were killed at a place rebels definitely overran. That alone might be adequate reason to confuse this link with smudged identities and a made-up last name leaving such speculation the only way to piece the puzzle together. It might look like this:
* Father Mohammed Shafiq Abdulrazaq and mother Amina Mohammed Abbara - have their last names simply swapped, ages adjusted if needed. They both get the Shafiq part, leaving a clue.
* Five children for a family of 7 total: eldest, daughter Bayan Mohammed is kept the same, and the four boys, last names changed to Al-Sweiee, first names also possibly changed. Later a different mother is made up to explain them.
* Amina's father Mohammed Abbara was deleted from the listings, and the once-damning Abdulrazaq-Abbara link would thus be obscured.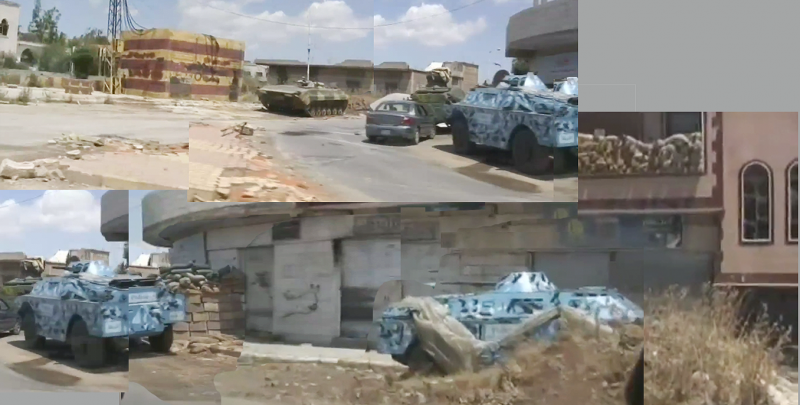 Above: composite panorama of the military portion of the overrun clocktower area on May 30 (not May 27)
Location (??) at left. They lived somewhere in there, some say.
Another note to add: a belated search on Wikimapia bears out the general picture of an Abbara family at the clocktower roundabout. At least five labels - placed by whoever and based on whatever - suggest they own several homes and perhaps surrounding land, dominating the center of town aside from the mosque and cemetery.
First, the indicated block of houses has
a label
the right shape to include the whole thing, but offset some meters east. Translated, it says "
(goods/retail/accessories) house Abbara Daoud 7
." It seems to include the very corner building and everything north - about 7 buildings, likely then what the 7 refers to. Town center in a block of buildings you own would be a good place to open a shop, become fairly wealthy, intermarry, basically host the Army ... In the image above, it would either be around the corner ahead, or in the space now used as the Army post. Maybe it's what was commandeered, likely with some reimbursement from the government, and you can see where that kind of thing might raise some eyebrows...
Next, three patches of land and homes south of the roundabout are also listed as home to Abbara men:
* Just south of the clocktower, related:
House Hajj (aged) Abdul Karim Abbara. God rest his soul. Grandson, Daoud Abbara
* A bit west of that:
House of Nazir and Bahaa Abbara
* A bit further west:
House of Hosni Abbara + Yahya Salim Abbara
And, it says, there's at least one more home in a marked block just northwest of the mosque -
Engineer (المهندس - Mohandis) Mohammed Iyad Abbara Abu Ubaida
- that's a more likely match than the shop block for an indirect Abdulrazaq family in the northwest, but maybe a better yet explanation is the true one.
Mapped out, labels shifted a bit to make more sense: